Jak and Daxter es una de las sagas más importantes de Sony, un duo nacido para hacer frente a Mario y otros referentes de los juegos de plataformas en PlayStation y que ahora regresan con sus títulos clásicos a PlayStation 3 con Jak and Daxter Collection. Los tres juegos de PlayStation 2 regresan con un cambio visual en HD para ofrecer las experiencias más alocadas en tu PS3, con un título que no debe faltar en la colección de cualquier fanático de las aventuras, con un dúo lleno de humor y viajes por una galaxia repleta de enemigos, obstáculos y plataformas, con mini juegos para mayor variedad y muchos escenarios divertidos donde tendremos que aprender a dominar las diferentes habilidades de nuestros personajes mientras avanzamos por el mundo. Una colección en Alta Definición que no deben perder de vista los coleccionistas de juegos.
Trucos para Jak and Daxter Collection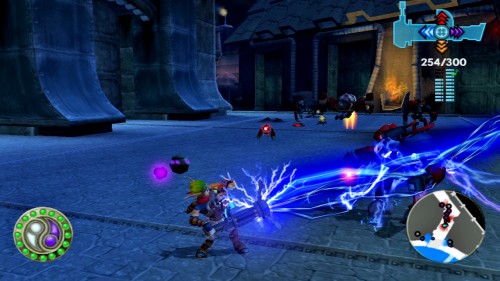 Trofeos en Jak and Daxter: The Precursor
Buzzin', reúne 28 Scout Flies.
Eggs Over Head, empuja el Flut Flut Egg por el acantilado.
Gimmeee That!, consigue la célula de poder del pelicano.
Set Me Free!, libera al sabio azul.
The Orbist, junta 100 esferas del Precursor.
Twist and Shouter, derrota a Lurker Ambush.
Power Chords, junta 50 células de poder.
The Super Orberator, reúne 2000 esferas del Precursor.
The Orberator, reúne 1000 esferas del Precursor.
Battle Hardened, batalla final contra Gol y Maia.
De-Klawwed, derrota a Klaww.
Zoom!, llega al final del Fire Canyon.
Zoom Zoom!, llega al final de Mountain Pass.
Zoom Zoom Zoom!, lleva al final de Lava Tube.
Trofeos Jak II
Poor Kid, protege a Kor y Kid.
Kaboom!, explota la munición en la Fortaleza.
Signature Moves, protege a Sig en la Estación de Bombeo.
Turrets Syndrome, destroye las torretas en las Alcantarillas.
Cha-ching, consigue el dinero de Krew.
Just the Artifacts Ma'am, encuentra 3 artefactos en el Templo de la Montaña.
More Power to You, enciende 5 switchs de poder.
Skip the Stairs, sube con el elevador hasta el Palacio.
Speeding Slowly, gana una carrera clase 3 en el Estadio.
Sunken Ship, destruye el barco en la Plataforma de Excavación.
Doggin' the Hellcats, destruye los 5 cruceros hellcat.
No Man is a Canyon, usa objetos en No Man's Canyon,
We're All Friends Here, restaca a tus amigos en la Fortaleza.
What's That Smell?, escolta a los hombres a través de las alcantarillas.
Grin and Baron It, derrota a Barón en la Tumba de Mar.
Trofeos de Jak III
I Smell a Rat, atrapa a las ratas changa.
Beat It derrota a Kleiver en la carrera del desierto
Art or Facts?, compite por los artefactos.
The Beast Beater, destruye las cabezas metálicas de bestias. Beasts
Boom Bada Boom, destruye a los Blast Bots.
Swimming Hole, llega a Metal Head por las alcantarillas.
Tanks for the Mammaries, destruye los Eco Tanques Oscuros.
Black Thumb Too, mata a las Plantas Negras en el Bosque.
Zoom Zoom, compite por más artefactos.
Gate Crasher Masher, defiende la puerta delantera de Spargus.
Duck and Dodge, llega a las Catacumbas por las Ruinas del Palacio.
Plasma Ball, destruye el Barco Negro.
The Orbiter of Faith, reúne 50 esferas de Precursor.
Bossing the Bot Boss, derrota al Robot Precursor de Veger.
Can Can Cannon, destruye los Cañones Sniper.